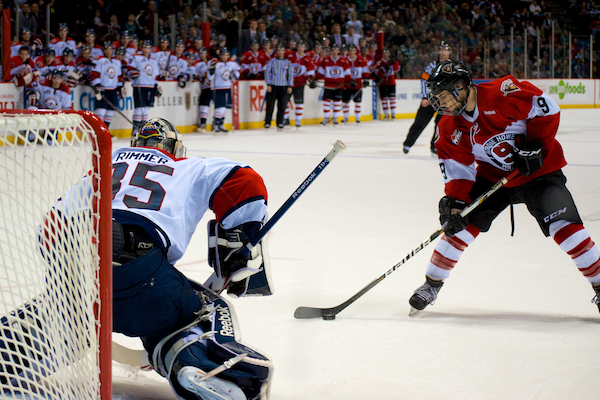 Alec Baer takes a penalty shot against Lethbridge last season. Baer may be among the first rookies to make it to main camp. Image via Puckedinthehead.
There was some confusion at the Ladner Leisure Centre tonight as instead of the scheduled three games starting at 5:45 PM, Giants' skills coach Yogi Svejkovsky took to the ice with a pair of players to work through some quick skating drills. The session was just a short one as it was revealed that the Giants had already trimmed the rookies into two teams, down from three, and were preparing to play what may be the final all-rookie game of the camp.
Notably absent from this game were nine skaters, including day one standouts Alec Baer, Ty Ronning and Jamieson Ree. Kole Bryks, Jesse Roach, Michael Eskra and John Wesley were also missing, as were Bradley Cropmton and Brendan Holterhus. It's worth noting that - save for Ree - all these players
appear on the Giants' "In the System" page on their website
and were not part of the 2013 draft class. I overheard a scout saying that they had already put "five or six" guys through to the main camp, so I suspect that Baer, Ronning, Roach, Bryks, Eskra, Wesley, Crompton and Holterhus are safe for now by merit of just having been on the radar for a year.
The picture is less clear with Ree. Despite impressing me with his play on day one, it seems odd that he would be either cut prematurely or put through just on the basis that he's not really "in the system" as of yet. And as the picture I took of a scout's roster shows, he was scheduled to dress for team White:
Official roster for team White. Jamieson Ree was listed, but didn't play.
He was never even on the bench though. It's possible that he was injured in one of the morning sessions and was unable to play, but I don't know because I had to miss the morning games. It would be a shame if he was forced to sit out with an injury since I thought he looked like a very capable defender with his play on day one and deserved a shot with the main camp.
---
If you assume that most of the players from main camp will be retained in the first round of cuts, you quickly realize that there really are not many spots left for the rookies in the main camp. Each main camp team already has six forwards and five defensemen, leaving room for maybe four or five rookies per team. Of those four to five per team, you're looking at a F/D split of maybe 10-12 F and 3-5 D making it to main camp. Six forward spots are presumably already taken, as are two (three if Ree was put through early) spots on defense.
That means that of the 27 skaters that suited up tonight, only 4-6 forwards and 0-2 D will make it through the weekend. Tyler Benson and Hunter Lester have surely done enough to earn spots at main camp, so that leaves a maximum of just six spaces to fill. Who fills them?
Probably the best candidates are Scott Mickoski and Gage Ramsay up front, while Ryely McKinstry, Matt Barberis and Chayden Lauber all made cases to stick around on the back end. Other than those guys, no player really caught my eye on either day as someone that could have an outside shot to stick either now or in a year or two. Scouts are paid to see really fine details though, so maybe someone caught something that I didn't. We'll see soon enough.
Note: the Giants
put seventeen rookies through to main camp
last year, so players who showed promising flashes tonight, like
Treavor Gagne
or
Phelan Shaw
, may get second looks too.
---
I did manage to take a couple of videos of the 4-on-4 overtime scrimmage and the shootout that came at the end of the game. You can see them here:
OT Scrimmage
Shootout
Also, the Giants
just posted their official day two recap
, confirming that Baer, Ronning, Roach, Bryks, Eskra, Wesley, Crompton and Holterhus all made the jump to the main camp on Friday. There's no mention of Jamieson Ree, so that mystery continues. Perhaps Saturday will shed more light on the situation, as ice times start at 9 AM.